Equicom Savings Bank (EqB), signed a partnership with Home Guaranty Corporation (HGC) through its Bankers – Builders – Buyers (BBB) Program. HGC President Atty. Manuel R. Sanchez, Equicom Group Vice Chairman Rene J. Buenaventura, and his Excellency, Housing and Urban Development Coordinating Council (HUDCC) Chairman and Vice President Jejomar C. Binay graced the formal launching of EqB's partnership with HGC.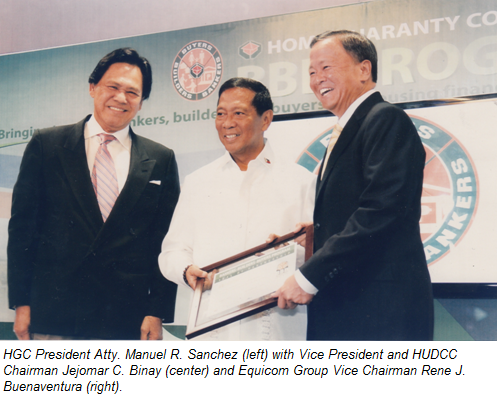 The BBB Program of HGC is an enhancement of its primary function as Housing Fund Mobilizer. The BBB Program brings together bankers, builders and buyers in a solid housing finance unit that complements each other's needs and functions. The partnership with HGC's BBB Program will boost EqB's current home loan offerings through a deeper understanding of the needs and functions of different builders and buyers under the BBB Program.
The BBB Program assists partner banks in promoting their housing loan products to builders and homebuyers, and in turn, brings builders to banks for project financing and promoting housing units to prospective homebuyers. By working hand in hand with HGC, EqB will see to grow and develop their current home loan offerings through the program's assistance.
Moreover, the BBB Program guides prospective homebuyers to self-qualify for housing loans and provides them with home-buying options according to their financial capacities and preferences such as housing unit, location, etc.
Being the first ever recipient of the Pagtugon Award given by the Bangko Sentral ng Pilipinas, EqB ensures responsiveness to the needs of their clients by partnering with entities like HGC that shares the same mission of providing practical home ownership programs. EqB offers convenient home loan procedures, reasonable processing turn-around time and very competitive home loan rates in the industry, while HGC provides flexible guarantees and tax incentives to banks, financial institutions and investors granting housing development loans and home financing.
Partnering with a reputable entity like HGC, EqB once again proves itself as one the country's most preferred savings bank – the bank that ensures responsiveness to the interest of its clients and the bank that continues to put their customers first in everything they do.