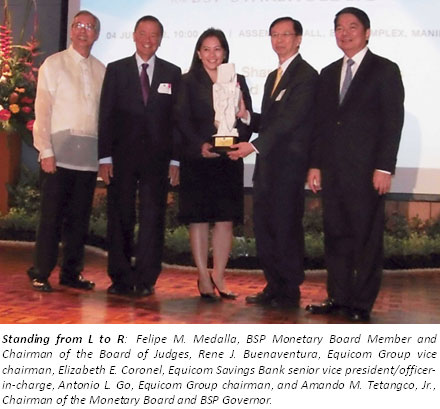 Equicom Savings Bank was conferred the 'Pagtugon Award' by the Bangko Sentral ng Pilipinas (BSP) during its 19th Anniversary celebration this month at The 2012 Awards Ceremony for BSP Stakeholders.
The 'Pagtugon Award', the first-ever award of this category to be given by the BSP, recognized Equicom Savings Bank (EqB), as the most responsive bank to address its customers' needs expeditiously and treats 'Responsiveness' as an essential quality of service excellence.
The award validated the vision of EqB to deliver excellent service and provide responsive and innovative solutions to its customers. Customer Service is always at the forefront of the Bank's unrelenting drive to give its clients the best banking experience.
Present during the awarding ceremony were Mr. Antonio L. Go, Equicom Group chairman, Mr. Rene J. Buenaventura, Equicom Group vice chairman, Ms. Elizabeth E. Coronel, EqB senior vice president and officer-in-charge, and EqB vice president and Compliance officer, Attorney Jessie A. Matibag.
The Chairman of the Monetary Board and Governor of the BSP, Gov. Amando M. Tetangco, Jr., and Monetary Board Member and Chairman of the Board of Judges Mr. Felipe M. Medalla, together with the members of the Monetary Board and other key officials of the BSP led the awarding ceremonies in honoring this year's awardees and stakeholders.
Equicom Savings Bank is regulated by the Bangko Sentral ng Pilipinas (BSP) with contact number (632) 8708-7087 and email address consumeraffairs@bsp.gov.ph.